Nuts for butternut!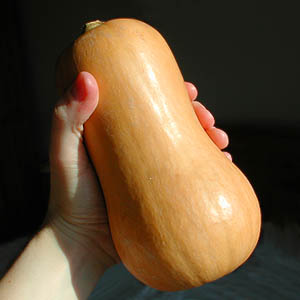 I made a most delicious butternut squash risotto last night from a recipe in Cooks Illustrated. I've realized in the last few months that I have trouble following recipes. It's not that I can't follow the directions (my job, after all, is to edit recipes), it's that I either lack the diligence to follow all the steps to the letter, or I'm missing some exotic or expensive ingredient, or I decide to make additions or substitutions (thinking that I can improve the recipe before I've even tried it!). I have to get out of this habit, because I know that following good recipes is the best way to learn how to cook. It's the closest home cooks can get to the coveted apprenticeships that make so many great chefs. So, with this posting, I vow to find good recipes and follow them at least once before I start making changes.
Since the butternut squash risotto recipe is not available online unless you're a Cooks Illustrated subscriber, I'm going to do you all a big favor by putting a quick, smaller version of it below (theirs is for 8 servings, I reduced it by about 25% because my squash was a bit small). While we were eating it last night, I told n8 that it was the best dinner I'd ever made.
Ingredients
Olive oil
1 butternut squash (about 1.5 pounds), peeled, seeded and chopped into 1/2" dice (reserve the fibers and seeds)
Salt and pepper
3 cups chicken broth
1 cup water
4 tablespoons butter
1 medium onion, cut very finely
2 garlic cloves, minced
1 1/2 cups arborio rice
1 cup of dry white wine
3/4 cup of grated Parmesan cheese
Minced fresh sage
Procedure
1. Heat a tablespoon of olive oil in a large skillet over medium high heat, and add the chopped squash in one layer. Cook it until brown, adding the salt and pepper after about 5 minutes. It should take about 10 minutes for it to be brown and tender. Put it in a bowl and set it aside.
2. In the meantime, heat the chicken broth and water in a saucepan that you can cover.
3. Add the squash fibers and seeds to the empty skillet. Cook them for about five minutes, until brown. Add them to the broth and simmer until further notice.
4. Heat 3 tablespoons of the butter in the empty skillet over medium heat. Add the onion and garlic, and sauté until brown, about 5 minutes. Add the rice, cook it for 5 minutes or until it begins to turn translucent, and add the wine.
6. In the meantime, strain the broth over a bowl. Press on the fibers and seeds with a wooden spoon to get all the liquid out, and discard. Put the strained broth back in the saucepan and keep it hot over low heat.
7. Once the wine is absorbed, add half of the squash.
8. Stir frequently until the wine is almost absorbed, then add a cup of the hot broth. Stir it constantly until almost absorbed, and repeat a few times until the rice is al dente.
9. Turn off the heat, add the remaining butter, the Parmesan cheese, the remaining squash, and the sage.
I added some cooked spinach to the final mix, as well as some toasted pine nuts (don't worry--this was sanctioned by Cooks Illustrated. I wasn't cheating!).
The brilliance of this recipe lies in the addition of the squash in two different steps. Squash gets cloyingly sweet if it's cooked too long, as well as mushy. Adding half of it early and half of it late results in a great combination of flavors and textures. Do yourself a favor and cook up a batch of this on some chilly night.